Main content starts here, tab to start navigating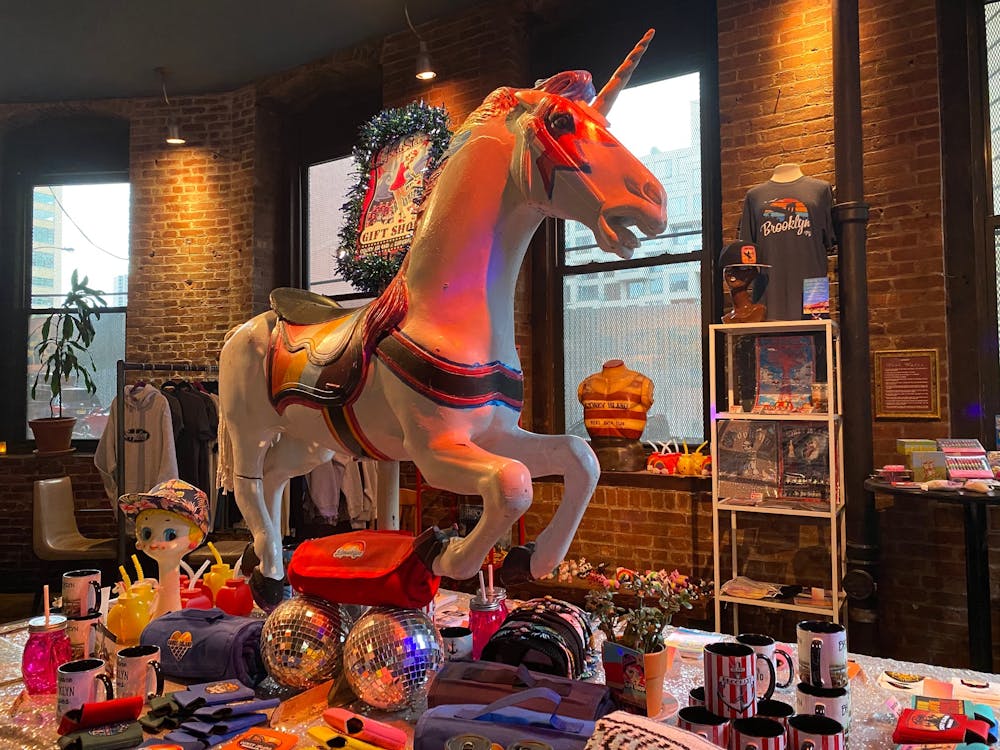 Iconic Female Owned Brooklyn Businesses Team Up to Survive Pandemic
Lola Star Pop Up Shop opens at Superfine in Dumbo Brooklyn
After dazzling millions with her shop on the Coney Island Boardwalk artist, designer, roller disco diva and Queen of Coney Island, Lola Star, has brought her fabulous designs, glittering magic and pizazz to Dumbo, Brooklyn.
Star is thrilled to announce her pool table pop up shop at Superfine (126 Front Street). As the threat of the pandemic looms over small businesses across NYC, endangering their survival, these iconic, female small business owners found a creative solution to triumph over the challenges.
Superfine and Lola Star have each survived 20 successful years in business and have become beloved staples in their Brooklyn communities but, due to the pandemic, they both face uncertain futures. So they have joined forces to help each other prevail! "The small business soul of NYC is in jeopardy. Few places epitomize that soulfulness more than Superfine" said Lola Star. "Small businesses like Superfine and Lola Star are what makes NYC interesting and authentic.
Like Lola Star, Superfine is an authentic manifestation of the creative owners. Their artwork hangs on the walls and saturates every inch of the interior including the menu. When you walk through the door, it is clear, you are walking into their dream. Their indoor pool table area is off limits so they offered the space to me to fill with my fabulous collection of handmade, Brooklyn themed merchandise that I design.
It's a perfect partnership because we are all female Brooklyn artist business owners who place a huge emphasis on community, good vibes and a never ending dance party through life." "We believe, so deeply, in the mom & pop small business soul of NYC" Said Tanya Rynd. "Lola Star and Superfine are "Ma and Ma" small businesses. Our sister small businesses were created around the same time in 2001. Both businesses were created out of nothing except an artistic, creative dream, and a passion for community.
We have struggled alongside each other. But now, as we both face uncertain futures due to the pandemic, it's fate that we have join forces to help each triumph over the unfortunate circumstances. The universe wasn't ready for this collaboration of fabulousness until now! So get ready for pure Brooklyn magic! " Since picnicking is the new, socially distanced way of going out, the Superfine + Lola Star pop up shop is the place!
Get brunch or dinner at Superfine in their outdoor urban artist tropical outdoor seating area or grab your food to go and picnic, just a few blocks away, at Brooklyn Bridge Park! Visit the Lola Star pop up shop inside for picnic blankets, to go cups, tee shirts and more! Support some of your favorite Brooklyn female small business owners and have an amazing time!
About Lola Star A Coney Island community activist, Lola Star has captured the hearts of millions with the line of merchandise that she designs, hand prints and sells at her Lola Star Souvenir Boutique on the Coney Island boardwalk and her online boutique. Lola Star reinvented the concept of roller disco twelve years ago when she founded Dreamland Roller Disco in 2008. The rink, formerly housed in the historical landmark Child's Building on Coney Island, has since become a world-famous roller disco that transports its guests into a retro "dreamland" put on by DJs and performers.
As the founder and former director of the Save Coney Island Organization, Lola helped save the historic Amusement District of Coney Island. Lola is also a huge animal lover, vegan and helps to rescue animals in need.
About Superfine Superfine is an artist informed community space that functions, not only as a restaurant, but as a hub of connectivity for visual artists, musicians and families. The concept was born in a Dumbo loft in early 90s when the neighborhood was a gritty creative mecca full of artists and art studios.
The three female artists Cara Lee Sparry (visual design mastermind), Tanya Rynd (painter, producer and maestro of development) and Laura Taylor (sculptor & Chef) partnered to fulfill a need for an artist informed community space.
This dream was spearheaded by the women but it was created by the community! The neighborhood came together, like a modern day, urban barn raising, to help build Superfine which opened one month after 9-11 during challenging, uncertain times. Over the past 21 year Dumbo has changed tremendously but Superfine, now an iconic mainstay, has remained true to its artistic, community focused roots.
The restaurant offers a vast array of farm to table cuisine sourced from local farmers markets, organic, grass fed meats are more are featured on a menu which changes daily, informed by the freshest ingredients they can find. They also host a calendar of diverse programming that ranges from family events to extraordinary nightlife parties.